7 Suitcase Essentials
Sometimes we want to bring everything with us, and sometimes we downsize our luggage so much that we forget the essentials. Here is a quick list of some of the essentials to bring with you.
1.Travel Flat Iron & Curling Iron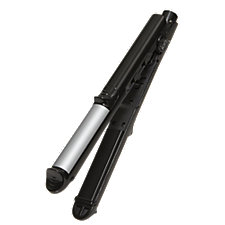 You will be amazed how often something like this will come in handy. Most hotels have hairdryers in the room, but does your do' need a little more love? This
Ion Mini Straight n'Spiral Styler Iron
 not only straightens but also curls! And don't think that the straightener is only for your hair. I have pressed many dress shirts and hemlines with mine. Just be sure to wipe off the plates before heating the iron to be sure that hair product doesn't leave a film on your clothes.
2. Downey Wrinkle Releaser 
There are travel sized bottles of this life saver at most discount stores. Keep this in your day pack so when you are out touring and a nasty wrinkle appears, a couple spritzes and it's gone! The smell is delightfully clean, so it helps maintain your go-to travel basics.
3. Duct Tape
What isn't cured by Duct Tape? From hemming a skirt before dinner, fixing your suitcase that TSA decided was  suspicious, an emergency band-aid or to secure your valuables in hotel rooms (have you tried taping your valuables to the bottom of a mattress before?), this stuff is essential! There are many fun designs and colors available, so pick one that makes you smile!
4. Ziplock Bags
You already need at least one of these to get through security at the airport, so you might as well pack a handful. They're great for storing your toiletries, jewelry (put the clasp of your necklace in the zipper with the long part hanging in the bag to prevent tangles), receipts, snacks, (small) wet bathing suits, and organizing your day pack.
5. Wipes 
Wipes are wonderful! There are many small packs available of whatever type of wipe that you need. I like to use these Yes to Carrots wipes for removing make-up, freshening up on planes, wiping down the remote at the hotel, etc. Everyone has their own preference, from Wet Ones, to Clorox Wipes (obviously don't use these on your face), baby wipes, or Shout Wipes. Just be sure to stick these in your TSA friendly ziplock bag to pass through security.
6. Medication 
 Having a pack of tablet Pepto Bismol in your day pack can save a day of touring! Always be sure to bring more than enough of your normal medications in their original bottle to make sure that you won't run out in case you are stranded in a city for weather, union or government reasons.
7. Snacks
Sometimes hours run short when we are en route to a destination. Prevent a grumbling stomach by stashing a bag of trail mix or other high protein snack to tide you over until you are able to eat. The higher the protein, the more satisfied you will be!